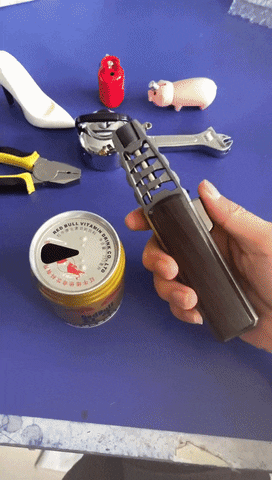 SMALL SIZE& PORTABLE:  This Adjustable Straight Jet lighter Lighter is smaller and safer. You can use it easily with only one-hand. Storing it in the pocket for on-the-go use or packing for kitchen, outdoors, hiking.
REFILLABLE & ADJUSTABLE: This butane lighter has an adjustment knob and an inflation hole at the bottom, making it easier and more convenient to adjust the flame and fill butane gas.
WIDELY APPLIED: Perfect for caramelizing sugar atop creme brulee, searing a steak, roasting bell peppers & marshmallows, melting cheese and toasting bread crumbs, etc. Also ideal for lighting candles, barbecue, fireplace and camping, for dabbing, soldering, welding, jewelry making, plumbing, art & craft applications.
EXQUISITE & METAL DESIGN: Sleek and stylish metal design makes the torch lighter more durable. The classic lighter with an elegant box is a perfect choice for birthday gifts, Father's Day, Christmas, and so on.
NOTE: In order to comply with Shipping safety regulations, the lighter will not be filled with butane when you receive it.