Crystal Glass Dip Pen has a nice flow that will give you an honest and direct experience with your ink. That is why glass dip pens are ideal for testing new ink colors. As long as you have a bottle of ink handy, these pens are ready to capture your thoughts anytime. This glass pen is possible to draw, not just write. Its exquisite appearance and simple cleaner step will promote your taste and status.
Main Features
✨STUNNING DESIGN — The Calligraphy Dip Pen is great for drawing and writing. Every stroke seems to have the brilliant shine of the starry sky, which is elegant,delicate yet romantic.
✨ENJOYABLE HAND FEELING – Made of high borosilicate glass, the pen is lightweight that makes you feel like you are holding nothing at all, you will feel amazing when you holding this pen in your hands and on paper!
✨THREADED TIP — Ink is held in the threaded tip design and flows down, allowing for silky-smooth and continuous writing. Each dip in ink can last for multiple sentences and strokes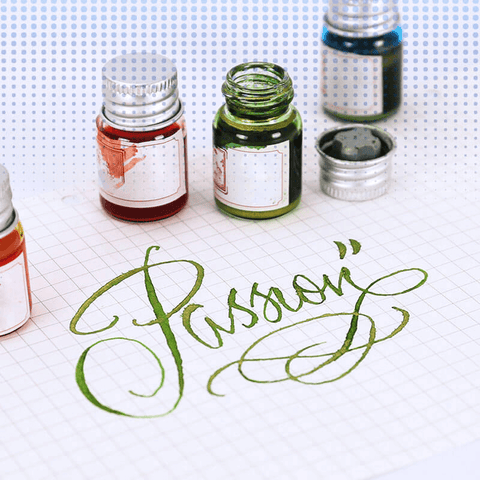 ✨EASY TO CLEAN — Rinse with clean water and dry with a paper towel after use. You only need a 10-seconds-cleaning before switching to other colors.
✨GREAT GIFT IDEA — A great gift idea for loved ones who interested in crafts, writing, and calligraphy. Well-packaged in gift boxes, snugly protected in foam that is cut to fit their shape.
Using Tips:
1. Dip the pen slightly in an ink bottle. (Note: Nib should be only partially submerged to avoid inkblots.)
2. Glide nib against the ink-bottle opening to drain excess ink. When ink no longer drips down from the nib it is ready to write with.
3. Use your glass pen to write notes, letters, wedding invitations, etc. Re-dip in ink if necessary.
4. Please don't put it inside of the table or other things to avoid breaking.
Package Includes: – 1 x Glass pen
– 12 x Ink bottle (7ml/each)
– 1 x Gift box